One of the most frequently asked questions is 'how does the running cost of a heat pump compare to that of a gas boiler?'.
According to the Committee on Climate Change (CCC), a public body that advises the government, around 23 million out of 27 million homes in England, Scotland, and Wales "are currently connected to the gas network, using a boiler". Until very recently, gas boilers were generally considered more affordable to run than electricity-fuelled heating appliances due to the high cost of electricity. However, for the first time ever under the new price caps of 34p kWh for electricity and 10.3p kWh for gas, it is cheaper to run a heat pump than a gas boiler, even at 3.0 SPF it's cheaper but the average heat pump now runs at 3.6 SPF. If you do away with gas altogether in your home you can save the standing charge of £160 a year!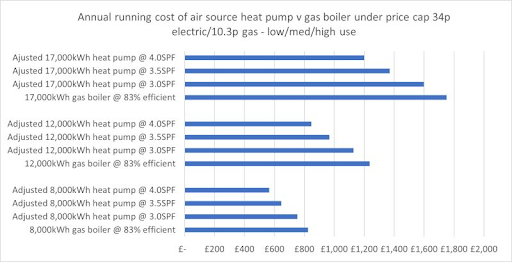 (Thanks to Jo Alsop, founder of The Heating Hub for the image)
It is, however, critical that your heat pump is the right one for your home, and is installed correctly. A heat pump's efficiency compared to that of a gas boiler can be as much as 300%-400%.
While there is no escaping the fact that a heat pump is a significant investment, with the average ASHP costing £15k to supply and install and GSHP £30k, there is funding available from Home Energy Scotland. You can receive up to £10k of funding towards your heat pump by accessing the Home Energy Scotland loan. Now £7.5k of that is a cashback payment grant, which means you don't have to pay any of that portion of the loan back. The remaining £2.5k is paid back by you as an interest free loan which you can pay over 5 years.
For further information about funding click here.
All your heat pump questions answered
Book your 15-minute discovery call now to get answers to all your questions and specifically those about your home.